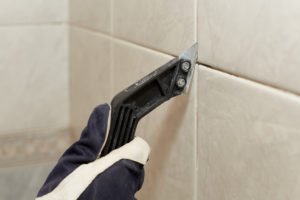 As a homeowner, renovating is part of the deal. You may need new flooring, new windows, or a fresh coat of paint. But for many homeowners, removing old flooring is an absolute pain. It is a messy, tedious process that usually takes too much time. Of course, you also have all the dust. By removing old tile, you invite all the built-up dust into the air. It is an absolute mess, not to mention the respiratory issues that often accompany excess dust in the air. Here at American Flooring Removal, we are licensed and professional flooring technicians who can provide dustless floor removal.
Working with Us
After you call for dustless floor removal, we schedule a day and arrive on time. As professionals, it is crucial that our team is ready to go when you are. We bring in all the equipment we need from the very start.
With respect to your time and home, we immediately begin working in the room you have requested. We do so while treating your house as if it were our own. We begin by removing the old tile immediately.
Cleaning the Mess
During the flooring removal process, you'll notice that there is quite a bit of mess. Our dustless floor removal process aims to eliminate the debris and waste as we go about the work. We can virtually eliminate all dust from the process.
Free of Contamination
Dust is an airborne contaminant. In large quantities, it is likely to cause extensive respiratory issues. You may find yourself coughing often, with throat irritation and sore eyes. Our process is designed to eliminate such issues altogether. You'll be fully satisfied with our dustless floor removal technology. That's a guarantee we stand by.
Schedule dustless floor removal from the certified flooring experts at American Flooring Removal. Give us a call at 469-556-3936.