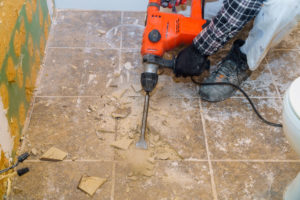 Today's tile removal process is easier than ever. Expert contractors have better equipment and tried-and-tested techniques that make tile removal a clean, efficient process overall. A lot of homeowners even feel comfortable doing it themselves. However, despite your confidence in the job, we do recommend hiring an expert. You protect yourself and your home that way.
Easy Tile Removal
The tile removal process is simple and straightforward. Here's how it all works:
Baseboards and Trim – First, the team will remove the baseboards and trim. While doing so, they will take immense care to ensure the material can be easily reinstalled once your new tile flooring is in place. At the same time, appliances and built-in furniture, such as cabinetry, will be carefully removed, too.
Tile – Next, with the area completely clean and free of hindrances, it's time to remove the tile itself. At American Flooring Removal, we use a dust-free tile removal method to help eliminate much of the mess. The old tile is then removed and disposed of properly
Underlayment – Beneath all of the tile will be underlayment. The underlayment may be made of cement, plywood, or backer board. We'll remove this next.
Subfloor – The subfloor is underneath the underlayment and must be thoroughly cleaned before any new flooring can be installed. It is important for the subfloor to be flat and smooth, free of debris, before laying down the new floor. If not, it will affect everything.
With these thorough steps complete, it's time to lay down new tile, hardwood, or any type of floor you have in mind.
As you can see, the process is straightforward, yet benefits from the expertise and the right equipment. We have both here at American Flooring Removal. Please schedule dust-free tile removal by calling 469-556-3936!